Foldaway scooter Luggie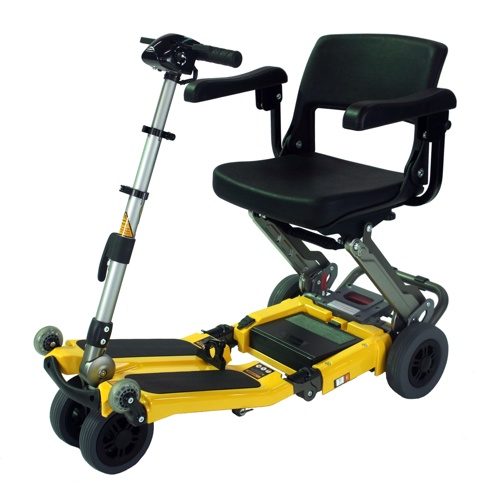 Color: Yellow, red, blue, gold
Colors of the images might be different from ones of real products.
Features
Easy setting and folding in a few tens of seconds
Easy loading and unloading: The weight is just 23.5kg(battery excluded).
Lithium ion battery used: It fills safety standards. You can bring the vehicle in the airplane.
Luggie is a epoch‐making light foldaway scooter(electric wheelchair with handle).
It is very light and compact design. You can load it into light vehicle after folding.
The manufacturer is FreeRider in Taiwan. Many people have already used in the U.K., Australia and America.
It decreases burden of walking outside and helper.
Movie
Specification
Model
FR168-4IT
Measure(length×width×height)
1,010×665×990mm
Weight(battery excluded)
23.5kg
Battery
10.5Ah
Max speed
Moving forward: 1〜5km/h
Moving backward: 1〜5km/h
Safely climbing angle
6°
Cruising distance
18km
Registered model number
K13-2
TAIS code
01410-000002
Recommended retail price
¥348,000 (excluded taxation)
Luggie senior car is a welfare product.
FreeRider Corporation (Taiwan)
http://freerider.com.tw/
Product catalogue
Title
Download
Product catalogue(front)
Download


PDF/11MB

Product catalogue(back)
Download


PDF/7MB